Medium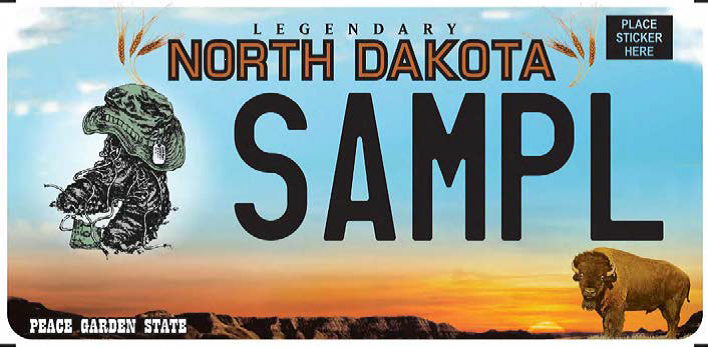 The Boonie Stomper License Plates are Available to the general public through the North Dakota Department of Transportation. You do NOT need to be a Veteran to apply for these plates.
The fee for the plates is $25. Of which $15 will be donated to the North Dakota Veterans Post War Trust Fund.  You will be assessed $25 when you renew your plates. Your plate renewal date will not change from the date you currently have. You can personalize the plates for an additional $25 (optional-as with any plate) with up to 5 characters.  Not available for motor cycle plates at this time. Must be a passenger vehicle not exceeding twenty thousand pounds.
What is a Boonie Stomper?
The Boonie cap signifies all veterans that have served in the Military and have fought the good fight for freedom.
The boots that are covered in mud, and blood of the ones who did not come home. The boots also represent the people who have gone on to walk with others who have walked in there shoes (boots). We do not want to forget that it takes a special person to fill the boots that we once walked in, no others can claim that they have walked the distance that a Veteran has.
The dog tags represent the Veteran that has returned home. There is only one dog tag.  The other one is now with a loved one when the Military/Veteran has returned. 
The torn dollar bill (that does not appear due to art being so small) is reminiscent that when a Military member went over they gave their spouse, loved one or a good friend to hold onto the other half so when they return the dollar bill can be used to buy a toast that they are home.  From those who gave the sacrifice, the torn dollar bill was buried with their half and the rest was retained by the family or friend.
Directions to Complete Application for "Boonie Stomper" License Plates
Complete SFN 54397 (pdf) Application for Organization Plate
Complete applicant and vehicle information
Personalized plate, optional for additional $25 fee, up to 5 letters and numerals.
Renewal Fee:
Add any renewal fees if you are renewing at this time. If you are not renewing skip this step.
Sign and date form
Include payment:
$25 Fee - Add $25 if you are requesting Personalized plates. And your renewal fee if applicable
Write check to:
ND DOT
Mail to:
Motor Vehicle Division
ND Department of Transportation
608 E Boulevard Ave
Bismarck ND 58505-0780
Application form SFN 54397 (pdf)
Veterans Post War Trust Fund
37-14-14. Veterans' postwar trust fund.
The veterans' postwar trust fund is a permanent trust fund of the state of North Dakota and consists of moneys transferred or credited to the fund under this chapter and other laws. Investment of the fund is the responsibility of the state treasurer who shall invest the fund only in those legal investments authorized by section 21-10-07. All income received from investments is to be utilized only for programs of benefit and service to veterans or their dependents, and all income earned in a biennium is appropriated to the administrative committee on veterans' affairs on a continuing basis in the following biennium and not in the biennium the income is earned for expenditure on these programs as authorized by law.
NDCC 39-04-10.15 Patriotic number plates enacted into law through passage of HB 1360 during the 64th Legislative Assembly 2015.