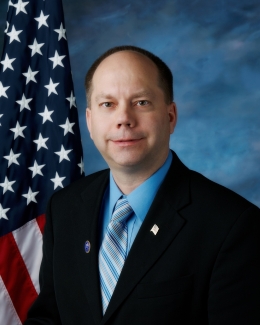 Accreditation:
American Legion
American Veterans (AMVETS)
ND Department of Veterans Affairs
National Association of County Veterans Service Officers (NACVSO)
Vietnam Veterans of America (VVA)
Non Commissioned Officers Association
---
Member of ACOVA
Department of Veterans Affairs and Budget Subcommittee
Veterans Legislative Council
Ex-Officio
---
Training:
Training, Responsibility, Involvement and Preparation of Claims (T.R.I.P.)
National Veterans Legal Services Program Basic Training
VA Privacy and Information Security Awareness
Health Insurance Portability and Accountability Act (HIPPA)
National Association of State Directors of Veterans Affairs
Appointed April 2008
4201 38th Street SW
Suite 104
Fargo, ND 58104-7535
Work Phone:
Email:
Biography:

Member of Veterans Organizations
American Legion
AMVETS
DAV
VFW
VVA Associate member
IAVA
TREA
Team Red, White, and Blue
Education:
Bachelors Degree in Business
Masters in Management
Masters in Business Administration Masters concentration in Human Resources
Organizations, Committees served on:
VA Secretary Veterans Rural Health Advisory Committee VRHAC (2017-present)
National Association of State Directors of Veterans Affairs (NASDVA)

Member 2008-present
President 2014-2015
Executive Committee 2009-present
Treasurer 2020-present

Administrative Committee on Veterans Affairs ACOVA (2008-present)
ND Veterans Legislative Council NDVLC (2008-present)
ND Military Academic Advisory Council MCMC or Multi-State Collaborative on Military Credit Committee (2011-present)
Workforce Development Council-ND Governor Appointed (2012-2015)
VALOR Advisory Board
Congressman Cramer' Veterans Advisory Committee (2014-2019)
ND Statewide Aging Collaborative (Since 2018)
Task Force for Veterans Affairs (2018-2020)
Complete Count Task Force Governor Appointed (2019-2020)
ISFAC (Inter Service Family Assistance Committee) 2008-2019
ND Cares Executive Committee (2013-present)
Task Force MIND (Military Issues in North Dakota) (2018-present)
Veterans Court Exploratory Committee (2010-2021) Chair
Veterans Court. Northeast Central Judicial District (2020-present)
ND America 250 Commission. Legislative appointment (2021-present)
Service Dogs For America Review Board (2015-present)
Committee to end Veteran Homelessness in ND (2019-present) Chair
Fisher House ND Committee (2019-present) Chair
Horace Lions President 2020
Recognitions:
2015 Recipient of the NASDVA "Iron Mike" award
Commissioned as a Kentucky Colonel by Steve Beshear- Governor of Kentucky in 2015
2012 recipient of the American Legion's "Department Commander's Award"
Lions International Fellowship (2020)
VA Secretary Pillars of Excellence Award (2016 and 2017)
37-18-04. Duties of commissioner: It is the duty of the commissioner to coordinate agencies or instrumentalities of the state set up to render service and benefits to returning veterans; to have charge of and implement programs and benefits authorized by statute; to assist or represent veterans or their widows, administrators, executors, guardians, or heirs, in processing claims; to advise and assist veterans in taking advantage of the provisions of the Servicemen's Readjustment Act of 1944 [Pub. L. 78-346; 58 Stat. 291], or any similar or related measures afforded by the federal government; to provide counties with recommended qualifications and standards for county veterans' service officers; to assist counties with training of county veterans' service officers; to provide county veterans' service officers with educational materials; to assist county veterans' service officers in the performance of their duties; to disseminate information; and to do any and all things necessary and proper for the purpose of carrying out the intent and purposes of this chapter.